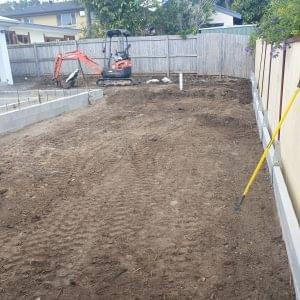 Concrete & Turf Preparations Gold Coast Are too very common jobs that we do for customers.
because who doesn't want a beautiful front lawn.
At Mini Digger Excavator Hire Gold Coast we have all the right equipment too get The job done.
Is your lawn/ turf looking a bit sad and your considering doing a re-turf but don't really know where too start?
We can come I'm scrape your existing Turf back to a bare level dirt base.
we then can get soil underlay delivered or we can pick up and deliver in our tipper truck Pending on most efficient & cheapest option.
We will then spread the underlay for a good base too give your new turf the best conditions to grow into a beautiful green front/ rear yard.
We can also lay the turf if needed.
Once you have chosen the turf you want and we lay it for you,
it will be no time at all until you have a beautiful green yard too sit out the back and admire!
For all excavation work on the Gold Coast, please don't hesitate too give us a call on 0402766405!