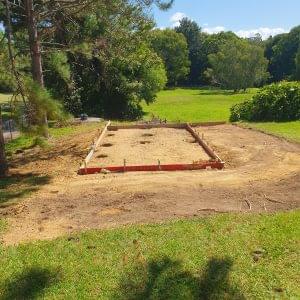 Shed slab excavations Gold coast
Are you looking at getting a shed built?
When looking too have a shed built you will have too workout how big of a shed Slab you need first on the Gold Coast.
once you have an idea you can mark out where the Slab is going & then we can come in and start digging it out to agreed height with our Mini Excavator.
our Mini Excavator is a great all round machine as its small enough too get into almost all Gold Coast back yards yet has enough power too dig through the tough Gold coast ground we have!
Once the shed Slab is all prepped to height & tidy we can also drill holes for Piers if needed with our auger drill bits.
If you are on a slight hill on the Gold Coast we may have to batter the edges for a nice clean shaped wall around the outside, or if it is too big we may have too prep ready for a retaining wall around the back of the shed.
We service the the entire Gold Coast with our Excavation Services All the way to Northern NSW! If you are needing a quote please do not hesitate too give us a call to discuss further on 0402766405!
Mini Digger Excavator Hire Gold Coast!