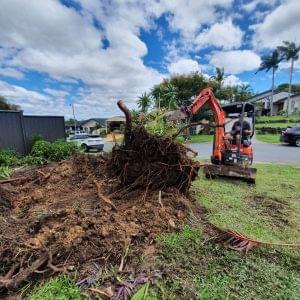 Tree Stump Removal Excavations Gold Coast
Do you have some tree stumps in your Gold Coast backyard that you are wanting removed?
With our Mini Excavation service on the Gold Coast we have done a large amount of small tree stump removals with our Mini Excavator.
The reason you are better off using our tree stump removal excavations over getting your stumps grinded –
When we come and dig them out we are getting the whole stump out so there is no chance of it coming back or being a hazard.
When you get stumps grinded that is known to be a nice warm home for them that is way too close too your home.
When we dig them out there is no home left for then nasty ants that can cost you thousands.
We also have a tipper truck to take the old stumps away.
When excavating tree stumps we will dig all the way around the stump until we can completely  pull it out.
We will then fill the hole back in with soil left over.
You will then have a nice smooth backyard again!
For a free quote on the Gold Coast.
Please don't hesitate to give us a call!
All excavation services available!
Ph – 0402766405